HEALTHDOX: The Paradox of Health State Futures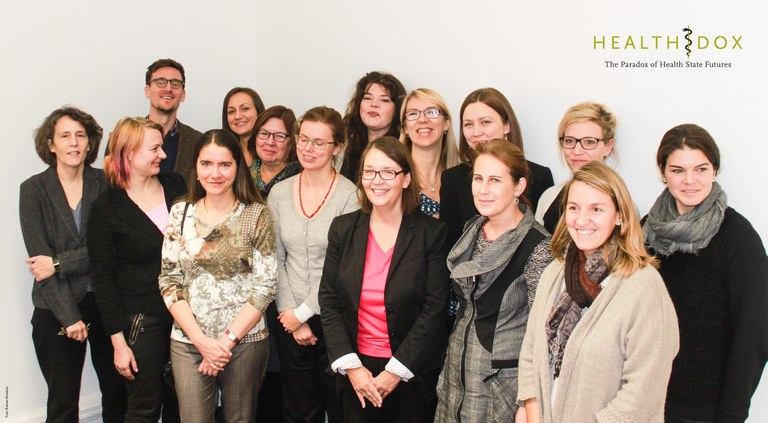 Start and End of Project
February 2015 to August 2018
Principal Investigator
Prof. Ellen M. Immergut - Humboldt University Berlin

Funding
NORFACE (Welfare State Futures Programme)


Research Team

| | |
| --- | --- |
| Researcher | Institucional Affiliation |
| Ellen Immergut | Humboldt University Berlin |
| Mare Ainsaar | University of Tartu |
| Karen Anderson | University of Southampton |
| Maria Asensio | Universidade de Lisboa |
| Paula Blomqvist | Uppsala University |
| Camilla Devitt | Trinity College Dublin |
| Maria Oskarson | University of Gothenburg |
Post-doc researchers: Diana Burlacu (Humboldt University Berlin), Tamara Popic (University of Lisbon), Ave Roots (Tartu University), Andra-Maria Roescu (Southampton University), Simone Schneider (Trinity College Dublin) and Björn Rönnerstrand (University of Gothenburg).
Summary

HEALTHDOX project aims to explore future trajectories of European health politics and policies through an investigation of the impact of recent health reforms on health inequalities, health expenditures, and public attitudes towards both the health system and the welfare state.
At its broadest level, the project poses the question of whether there is a paradox of health state futures. Europeanization and globalization processes may be putting National Health Service types of health systems under increasing pressure to converge to the Continental health insurance model. But National Health Services may be the type of health system best suited both to cope with the rising health costs associated with population aging, and to regenerate public support for the welfare state amongst increasingly diverse populations.

This project investigates health policy developments from 1990 to the present across Europe, in both EU and non-EU countries. The impact of these policy changes will be analyzed using quantitative data found in both national and international sources. Our team is comprised of qualitative and quantitative researchers from the fields of Political Science and Sociology, whose combined expertise includes health politics, health policy, demography, migration, comparative and European politics, and the politics and sociology of the welfare state. The comparative and transnational design of the project will allow us to provide insights into health inequalities, the meaning of the welfare state for individuals, and the future politics of the welfare state, as well as to provide health policy-makers with important feedback on their policies.

Topics studied in the framework of the HEALTHDOX project: Trends in healthcare reforms; Public opinion on welfare and healthcare related issues; Health inequalities; Migration and access to healthcare; Europeanization of healthcare policy; Stakeholders in healthcare policy; Governance and efficiency of healthcare systems; Corruption;

Main cases: Germany, United Kingdom, Ireland, Netherlands, Sweden, Portugal, Estonia, Czech Republic and Bulgaria. Shadow cases: Albania, Austria, Belgium, Bosnia and Herzegovina, Croatia, Cyprus, Denmark, Finland, Greece, Hungary, France, Former Yugoslav Republic of Macedonia, Italy, Iceland, Kosovo, Latvia, Lithuania, Luxembourg, Malta, Montenegro, Norway, Poland, Romania, Serbia, Slovakia, Slovenia, Spain, Switzerland, Turkey.